The Device Pallete
The Device Palette offers a searchable list of all project devices to choose from. Simply click a device button to insert the device into the drawing. Extra options are available to keep attributes level, and also to rotate after insert. Any device with output circuits will automatically prompt for an optional panel or module name which can dynamically be used to be displayed in the device label.
Devices that require incoming circuit selections will prompt the user to configure the proper settings required. After inserting and configuring a device from the palette, traditional copy and insert commands can also be used to add the device to the proper locations.
Easy Device Placement & Selection
Dynamic Coverage Display
Coverage display can be turned off for any selection of devices, using quick select commands or selecting the areas you want to display. These coverage overlays are displayed transparently to easily see where there is overlapping or not enough coverage. In the event you have multiple setting for a device, these coverage areas adjust dynamically as you change connected or unconnected devices. The device configuration database allows you to easily configure the coverage area, width and height for each circuit setting.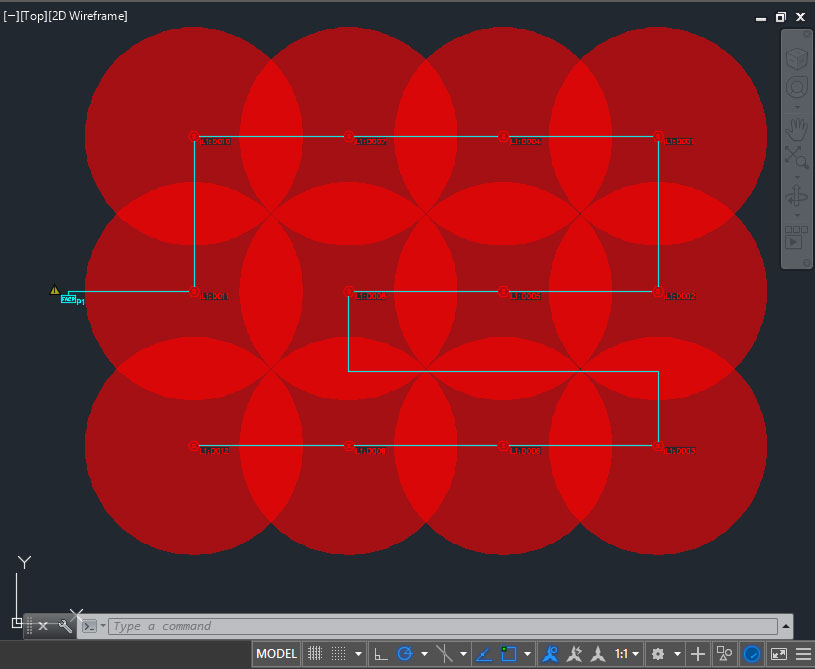 Flexible. Reliable. Perpetual.
By leveraging AutoCAD® OEM as our robust and feature rich platform, we have the ability to exclusively work on features related to improving Fire and Security design, while providing you with the standard platform features you can count on. FireCAD™ contains all the robust DWG® platform features your designers already know!
Unparalleled Experience & Support
If you are a small business owner and also serve as your own CAD operator, rest assured that there are many online resources available and extensive help in getting familiar with the base platform drawing features and commands, and we include 6 months of remote technical support in each license.
Knowlege Base
Our experience with cloud computing platforms such as Microsoft Azure can help to streamline your business process and power solutions we create for you. Visit our robust support channel for product updates, knowledge base, FAQ, downloads and more.